Dorm
Private Low
Private Up
Suite
LS
HS
LS
HS
LS
HS
LS
HS
Price Per Night
$15
$18
$25
$35
$35
$45
$45
$65
* Cancellation policies and conditions further below.
Just around the corner from Habla Ya
421 Guesthouse is by far the ideal low budget option for Habla Ya students, situated at only one block or 2 minute walking distance from the school in a quiet residential area.
421 has been set up in a traditional Caribbean mansion, entirely made of wood, giving it the unique homey feel. Its spacious rooms and common areas with balcony in the front and in the back, will make you feel like you're in a huge vacation villa instead of a hostel. Guesthouse 421 is definitely more like an "upscale" budget option which offers all the amenities of your average Bocas hostel, including wifi, but with nicer facilities and AC (which is rare in Bocas del Toro for low budget options).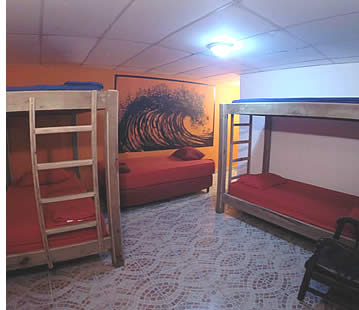 Various Room Options
421 has dorm rooms, shared private rooms and private suites. All rooms are comfy and clean.
The dorm or group rooms have 5 beds in each, two bunk beds and one single bed as well as one bathroom.
The shared private rooms have 2 single beds in each of them and are connected with one other private room through the shared bathroom. This option is ideal for friends traveling together who don't wish to share a bed, and want some privacy as opposed to sharing a room with other travelers.
The private rooms with shared bath have double beds in them, and share the bathroom with one other private room. This option is ideal for couples who want to have some privacy, yet don't want to break the bank.
This is the cheapest option you'll find for a private room because the bathroom doesn't have hot water. However, that's really no big deal here in Bocas, as "cold" is more like lukewarm, since temperatures are high all year round.
The suites are entirely private with their own private bathroom, and you'll be able to enjoy a comfortable king size bed.
Owners Onsite = Quality Service
As you'll be studying with us for several weeks, you also have the option to cook your own meals in the communal kitchen. The communal kitchen is ideal if you want to cook your own meals without having to eat out all the time. The shared kitchen has a stove, a refrigerator and dining area.
All the rooms are equipped with AC and wifi for you to stay connected. The large communal area with a sofa and cable TV as well as some books will allow you to just relax, enjoy a nice cup of coffee or a cold beer and chat with fellow students or travelers.
The owners, Luis Alberto and Juan Fe, are best buddies and experienced surfers, so they will be able to point you in the right direction if you are looking for some good surf breaks (or ask us!). They also live on-site so without any doubt, you'll always be looked after.
SIGN UP & BOOK A ROOM AT 421 GUEST HOUSE...
Rates
Dorm
Private Low
Private Up
Suite
LS
HS
LS
HS
LS
HS
LS
HS
Price Per Night
$15
$18
$25
$35
$35
$45
$45
$65
* Please note: prices are in US Dollars. Rates DO INCLUDE Panama's 10% Hotel Tax. Reservations require a valid credit card payment of a 30% deposit. No shows and cancellations within 1 month lose 30% deposit. LS (low season): May 1st - Nov 30th. HS (high season): December 1st - April 30th. During national holidays, a surcharge may apply.
SIGN UP & BOOK A ROOM AT 421 GUEST HOUSE..
Location